M3 the dark metal (M3〜ソノ黒キ鋼〜, M3〜Sono Kuroki〜Hagane?, lit. M3〜That Black Steel〜)[1] is a 2014 Japanese anime television series created by Satelight. It is directed by Sailor Moon director Junichi Satō, written by Anohana writer, Mari Okada and features mechanical designs by Shōji Kawamori of Macross fame. It first aired in Japan on April 21, 2014.
A distorted, endlessly black darkness.
The location where the dark swallowed everything and took everything from us has become known as the Lightless Realm. Born there, as if they were mirror images of the despair and chaos humans felt, were aberrations. They were called Admonitions.
An investigation of the Lightless Realm that eats away at the human psyche.
Can a group of eight boys and girls gathered in an effort to combat the Admonitions see the light of the future beyond the Lightless Realm, while their past destinies and dangerous present intertwine in a complicated web?[2]
Episodes
Edit
Comprehensive Episode Listing of M3 the dark metal episodes
| # | Episode Title | Japanese Airdate |
| --- | --- | --- |
| 1 | STARRY NIGHT | April 21, 2014 |
| 2 | EMBRACED BY THE REAPER | April 28, 2014 |
| 3 | SEAM OF THE PAST | May 5, 2014 |
| 4 | DANGER, DO NOT MIX | May 12, 2014 |
| 5 | SELF IN VAIN | May 19, 2014 |
| 6 | TERROR FADING INTO DEATH | May 26, 2014 |
| 7 | COMMAND OF SOLITUDE | June 2, 2014 |
| 8 | RECKLESS FORBIDDEN REALM | June 9, 2014 |
| 9 | BLUE HEART OF STEEL | June 16, 2014 |
| 10 | YOUR SONG | June 23, 2014 |
| 11 | RED LAMENT OF CRUELTY | June 30, 2014 |
| 12 | WHAT LINKS TWO PEOPLE | July 7, 2014 |
| 13 | ROAR OF THE BEAST | July 14, 2014 |
| 14 | SOUNDS OF REGRET | July 21, 2014 |
| 15 | VACANT HEART OF MORNING GRAY | July 28, 2014 |
| 16 | PROMISED TOGETHER | August 4, 2014 |
| 17 | LIGHT OF THE LIGHTLESS | August 11, 2014 |
| 18 | THE TRUTH OF YOMIJIMA | August 18, 2014 |
| 19 | THE BLACK SUNSET | |
| 20 | OVERLAPPING SOUND OF LOVE | |
| 21 | YOU WILL, TO THE BIRTH CRY OF THE END | |
| 22 | LIGHT, AND THEN LIGHT | |
| 23 | PROOF OF THE STRONGEST | |
| 24 | ORIGINAL SIN, PAST AND FUTURE | |
Characters
Edit
Kukunochi Academy
Edit
Production
Edit
The anime was first announced on March 13, 2014.[3] On March 18, the synopsis, main cast and main staff were revealed.[4] The first preview was uploaded by
The anime was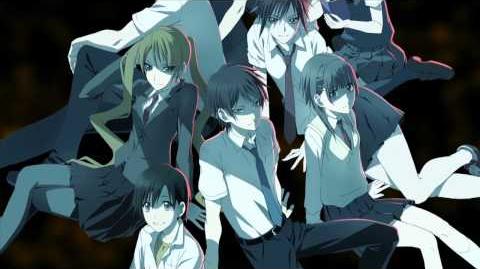 References
Edit